Here is the exciting line-up of 2017 films listed in alphabetical order. You can download a copy of the program with film descriptions and the schedule, by clicking here.
Alive and Kicking 19 min. 2015
Filmmaker: Lara-Ann deWet
Filmed in the heart of Limpopo, South Africa, the village grannies (aged 55 – 84) lace up their soccer boots and start kicking their way through centuries of taboos. Dealing with their own stories of abuse, poverty & neglect these women come together on the soccer pitch for their weekly dose of therapy- both emotional & physical, and to celebrate being alive. Through their camaraderie on the field they play serious soccer then break into laughter and song as they wage a singular fight for a decent life, true health and a chance to experience joy in a brutal world. Audience Award for Best Short Film, Seattle Int'l Film Festival
Cafeteria 25 min. 2015
NFB
Director: Francine Hébert
This short documentary looks at how an entire community mobilized to improve the cafeteria menu at a primary school in Cocagne, New Brunswick. Rallying behind this noble cause, residents put their shoulder to the wheel, promoting products from local farmers over those of multinational corporations. Everyone gets involved to make healthy eating a common goal as well as a learning opportunity. (French with English subtitles)
Goodwin's Way 56 min. 2016
Washboard Films
Director: Neil Vokey
Ginger Goodwin, a rebellious labour activist, was slain by police under mysterious circumstances almost a century ago, yet his name still elicits wounds that date back to Cumberland BC's coal mining past. Residents weave an oral tapestry of fact and myth. Some remember Goodwin as a criminal, while many others admire the ideals of equality and self-determination he fought for. Those ideals have long been overshadowed by Cumberland's dependency on a resource economy. Amidst an effort to oppose a proposal for a new coal mine, residents young and old reconnect with Goodwin's legacy. Goodwin's Way straddles the dividing line between historical and current-event documentary genres to tell the story of a community fighting for autonomy over its past, and its future. 
Havana Curveball 56 min. 2015
Patchwork Films
Director: Ken Schneider
Havana Curveball is a heart-warming coming-of-age story about Mica, an ordinary American teenager who faces extraordinary challenges when he sets his heart on donating baseball equipment to young Cuban players. This is his act of thanks to the country that gave his grandfather refuge during the Holocaust. Viewers join Mica on a deeply felt journey that shows just how complex it can be to do a simple good deed. Best Documentary, Boston Int'l Kids Festival; Special Jury Award, Olympia Int'l Film Festival (Greece)
How I Got Over 87 min. 2015
McNabb/ Connolly
Director: Nicole Boxer
How I Got Over is an intimate profile of 15 formerly homeless and incarcerated African-American women that dramatically reveals the social causes of their plight and how their lives were transformed. The film follows the women for 12 weeks as they craft and rehearse an original play based on their harrowing, true-life stories including domestic violence and incest. None have had any acting experience but they are guided by the Theater Lab's "Life Stories" program. Their work together leads to an emotional, one-night only, sold-out performance at the Kennedy Center for the Performing Arts in Washington, DC. This is a look at what might be accomplished if more resources were devoted to recovery support, as well as a celebration of the transformative power of theater and the arts.
Keepers of the Coast 38 min. 2016
Filmmaker: Twyla Roscovich
The central coast of BC is one of the most spectacular and biologically rich places left on the planet – where ancient temperate rainforest intertwines with the living Pacific. Keepers of the Coast takes a close look at how the Kitasoo/Xai'Xais, Heiltsuk, Nuxalk, and Wuikinuxv Nations are stewarding their marine territories. The indigenous peoples who have inhabited the central coast for thousands of years have joined forces, forming the Central Coast Indigenous Resource Alliance (CCIRA). Keepers of the Coast explores how they are using a combination of traditional knowledge and science to inform marine plans that uphold their indigenous laws and steward their marine resources in a manner that sustains cultures and ensures intact ecosystems, healthy communities and local sustainable economies, now and into the future.

Migrant Dreams 90 min. 2016
www.migrantdreams.ca
Director: Min Sook Lee
Migrant Dreams exposes the underbelly of the Canadian government's Temporary Foreign Worker Program which empower brokers and growers to exploit and deceive migrant workers who have little access to support or information in their own language. These workers pay exorbitant fees to work at minimum wage jobs packing the fruits and vegetables we eat. Under the rules of the program, the migrants are tied to one employer and are denied basic labour and human rights.  When an anonymous caller alerts the police to extortion payments demanded by a broker, the workers must decide who is willing to take risks and cooperate with the police investigation. One has nothing left to lose. For others, the risk to their safety and livelihood is too great. Best Canadian Documentary, HotDocs Film Festival 
A New Economy 85 min. 2016
Domain 7 Studio
Director: Trevor Meier
What if working together for the good of all was the most common business model? Watch, as several organizations strive towards building a more cooperative future. By rewarding human effort fairly instead of obsessing about the bottom line, these revolutionary businesses are creating a more people-friendly future, creating new ways to make money and doing it sustainably. A New Economy features seven interwoven stories. Among them are a small craft-brew coop, a peer-to-peer open hardware lab and an urban agricultural social enterprise. The Borealis String Quartet weaves beautiful music together with conversations on the core rewards of cooperation.
Nice People 91 min. 2015
Kinosmith
Directors: Anders Helgeson, Karin af Klintberg
The predominantly white community of the rural town of Borlänge is changed within two years by the influx of 3,000 Somalis who have fled war and come to live in Sweden. Integration is proving to be difficult, so entrepreneur Patrik Andersson decides that all the Swedes and Somalis need is something in common to bring them together. He encourages the Somalis to learn bandy (a cross between ice hockey and field hockey) with the goal of becoming the first ever bandy team to represent Somalia at the Bandy World Championships in Russia in six months even though they have never skated in their lives! Can they do what seems to be impossible? Nice People portrays the power of building communities through shared experiences. "Entertaining and heart-warming" – Audience Award, Hamburg Film Festival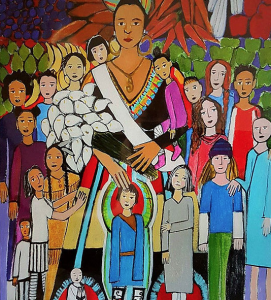 Nourish Cowichan 10min. 2017
Filmmaker: Nick Versteeg
Three in five children in the Cowichan Valley live below the poverty line. Many go to school hungry and can't concentrate. Dina Holbrook and Fatima da Silva founded Nourish Cowichan in order to feed children in our valley. This short film provides an introduction to their important work. Join Chef Fatima for a discussion about this amazing, local project following the film.
Occupy The Farm 90 min. 2014
Director: Todd Darling
Occupy the Farm is a powerful, riveting film that tells the story of 200 urban farmers who take over a publicly owned research farm in protest. They plant two acres of crops in order to save the land from becoming a commercial real estate development. Within hours, they planted an acre of vegetables, put up a big banner that read Occupy the Farm and set up a tent village to defend the crops. The cameras follow the story for the next five months. We witness the dramatic and rapid evolution of the tactics and strategies of both the farmers and their adversaries the officials from UC Berkeley. "Riveting from the start." – Village Voice.
Pan! Our Music Odyssey 53 min. 2015
www.pan.tt
Directors: Jerome Guiot and Thierry Teston
During World War II, Trinidad & Tobago's underprivileged urban gangs stole oil drums to create a new musical instrument – the Steelpan. This colourful and entertaining film re-enacts pivotal moments in the history of pan music from the banning of slave drum dances in the 1820s to today. The story of urban gangs ultimately making peace through music is uplifting. Steelbands have mushroomed in every corner of the planet. Still, Trinidad remains the Mecca, where each year steelbands of over 100 musicians come from all over the world to compete for glory in the joyous Panorama. 
Prison Dogs 72 min 2016
Journeyman Pictures
Directors: Perri Peltz and Geeta Gandbhir
"Puppies Behind Bars" is a remarkable program that sees New York convicts raise and train service dogs for up to three years. The inmates live with the puppies 24 hours a day and teach them 99 commands to train them as service dogs to help war veterans with PTSD. The prisoners, often serving long sentences for crimes that haunt them, struggle daily to find a way to pay their debts to society. The "Puppies Behind Bars" program offers them a chance. Prison Dogs chronicles five prisoners and the five puppies with which they are entrusted to train. In the end, saying goodbye proves the hardest task of all. This is a beautiful story of love, loss, rehabilitation and redemption.
Seeds of Justice: In the Hands of Farmers 37 min. 2015
USC Canada in collaboration with the Gaia Foundation
Filmmaker: Jess Phillimore
Seeds of Justice follows Ethiopian plant geneticist Dr Melaku Worede's inspirational work to value farmers' knowledge and protect their position as guardians of seed diversity. Treading in Melaku's footsteps from his youth to the present day through his pivotal experience of Ethiopia's infamous famine, the film questions one of society's most flawed assumptions: that scientists hold the answers to ending hunger, not farmers. Dr. Worede is also co-founder of USC Canada's International Seeds of Survival program.
Sonic Sea 61 min. 2016
www.sonicsea.org
Directors: Michelle Dougherty, Daniel Hinerfeld
Sonic Sea travels beneath the ocean's surface to uncover the damaging consequences of increased ocean noise pollution and what can be done to stop it. Featuring interviews with marine ecologists, ocean life experts, and wildlife activists, including Grammy-Award winning musician and activist Sting, Sonic Sea highlights how noise from a range of man-made sources has affected whales in recent years, including the mass stranding of whales around the planet. The film uncovers how better ship design, speed limits for large ships, quieter methods for underwater resource exploration, and exclusion zones for sonar training can work to reduce the noise in our oceans and stop the deaths of our ocean's beloved creatures, as long as society has the political will to solve it. Jury Award, Wild & Scenic Film Festival 
Tracing Roots 35 min. 2014
New Day Films
Director: Ellen Frankenstein
Tracing Roots is a portrait of an artist and a mystery. The film follows master weaver and Haida elder Delores Churchill on a journey to understand the origins of a spruce root hat found with Kwäday Dän Ts'ìnchi, the Long Ago Person Found, a 300-year-old traveler discovered in Northern Canada in a retreating glacier. Delores's quest crosses cultures and borders, involving artists, scholars and scientists, raising questions about the meaning of connection, knowledge and ownership. Stay tuned for the amazing "reveal" at the end of the film. 
Unbroken Ground 26 min. 2016
Patagonia
Director: Chris Malloy
Unbroken Ground explores the critical role food plays in finding solutions to the environmental crisis. The vast majority of our food is produced using methods that reduce biodiversity, decimate soil and contribute to climate change. Food can and should be grown, harvested and produced in ways that restore the land, water, wildlife and human health. The film tells the story of four pioneering groups and the people behind them, leading the way with regenerative agriculture, restorative grazing, new crop development and selective-harvest fishing. 
WEconomics 20 min. 2016
McNabb/ Connolly
Filmmakers: Mark Dworkin & Melissa Young
The Emilia-Romagna region in northern Italy has one of the highest concentrations of cooperative businesses in the developed world. The capital, Bologna, is an industrial powerhouse where prosperity is widely shared and cooperatives of teachers and social workers play a key role in the provision of government services. Frances Moore Lappe remarks, "Fabulous! I can't overstate the importance of this film right now!" 
Wheel of Life 15 min. 2015
Patchwork Films
Director:  Ken Schneider
Meet El Oso (the Bear), one of the founders of Casino, the Cuban dance that launched salsa. A simple man whose joie de vivre is a delight, Oso travels through his Havana regaling us with tales of his youth, when Havana's exclusive clubs were white only, forcing him to dance on the streets. After intervention from rock n'roll and the revolution, Oso and his circle of friends choreograph a new history felt today across the globe. One of the first US-Cuba co-productions, Wheel of Life spins international relations onto the dance floor.